Mesi fa, tornandomene da un viaggio di lavoro in Oman, mentre aspettavo il decollo, notai questo strano aereo all'aeroporto di Muscat: A parte che vedere un quadrimotore ad elica è cosa rara, vederlo poi in servizio attivo, seppure un po' malconcio, mentre gli caricano merce nella pancia, m'incuriosì non poco.
Fatte le foto, mi dimenticai della cosa. Oggi ho ritrovato le foto e mi sono messo a cercare il codice d'immatricolazione dell'aereo, UP-I1801.
È un Ilyushin Il-18, robusto aereo russo prodotto dal 59 al 78:
Qui una bella foto dell'aereo in Djibouti:
http://www.holding-point.fr/affichage2.php?img=5830
e a Fujairah: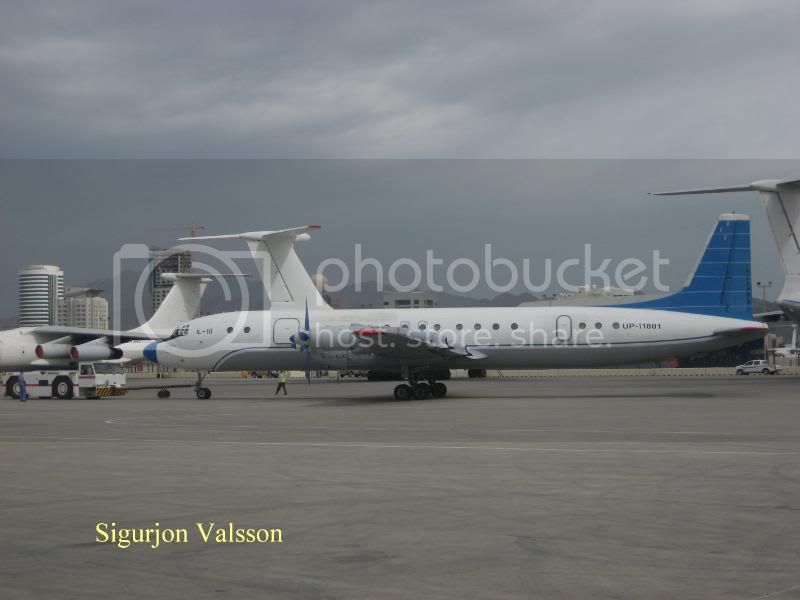 Originariamente di proprietà dell'Aeroflot, l'aereo ha successivamente cambiato casacca svariate volte, e principalmente tra le società Air Cess, Air Pass, Air Bas, Irbis e Mega Airlines, tutte società riconducibili a Viktor Bout:
http://www.ruudleeuw.com/vbout00.htm
Viktor Bout trasporta di tutto, armi, cibo, passeggeri, e per chiunque: Charles Taylor (ex dittatore Sierra Leone), Hezbollah, Unita, Congo, Al Qaeda, ONU, USA, Francia…
È specializzato nell'evitare le sanzioni dell'ONU e a spedire di tutto ovunque, anche nei posti più impensabili.
As well as some more controversial customers such as Charles G. Taylor, the French government, the UN and the US have also used his planes. Bout has reportedly shipped flowers, frozen chicken, UN peacekeepers, French soldiers and African heads of state.[
Il personaggio di Nicholas Cage in Lord of War è ispirato a lui. A Marzo 2008 è stato arrestato a Bangkok, e sta aspettando l'estradizione verso gli USA (e la Russia spinge perché venga negata).
Altre foto di suoi aerei e info su di lui (a fondo pagina):
http://www.ruudleeuw.com/il18_at_shj.htm
http://www.ruudleeuw.com/air_cess_inf.htm
http://www.ruudleeuw.com/air_cess_more.htm
http://www.ruudleeuw.com/vbout38.htm
http://www.ruudleeuw.com/vbout12.htm